Photoshop Easy – The Ultimate Online Photoshop Course – Unmesh Dinda
$397
The Ultimate Online Photoshop Course
Join Photoshop Easy to revolutionize the way you work within Photoshop and take your creativity to new heights.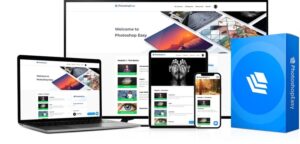 Learn to Master Photoshop, Take Your Images to the Next Level, and Develop Your Workflow From Start to Finish
Photoshop Easy gives you the necessary direction needed to build the best Photoshop practices and workflow
We will not focus on memorizing steps, settings, or values. Instead, we will cover everything you need to know so that you become a master in Photoshop and achieve whatever result you desire by creating your own steps and techniques
8 MODULES
50+ LESSONS
30+ HOURS
What You'll Learn
You'll learn to create breathtaking images through a fast and easy path capable of helping you acquire a solid work foundation.
You'll learn to explore the true potential that lies behind every tool that Photoshop offers.
You'll learn to correctly process your images, avoiding all those mistakes that 99% of all photographers, creators, and photo editors make.
You'll learn to juggle the program in full autonomy. Nothing will be left to chance.
You'll acquire the post production system that Unmesh has implemented, and will completely change your way of editing photos.
You'll learn to manage the color of your photographs and get the colors you've always dreamed of!
And many other techniques and strategies to take your skills to the next level and create images that will leave everyone speechless!
You'll discover the most advanced techniques to shape the lighting in your photos, as you please.
Link:
https://app.photoshopeasy.com/buy
You must log in to submit a review.