Fstoppers – Shavonne Wong – The Fundamentals of Fashion Photography
With Shavonne Wong
What Does this Tutorial Cover?
The goal of filming the Fundamentals of Fashion Photography was to boil down as much information as possible into a bunch of short, digestible lessons that are easy to follow while still providing the viewer actionable lessons they can immediately start practising on their own. We cover every aspect of Shavonne's process, including what gear she uses, how she finds the best people to work with, her favourite lighting setups and camera settings, and how she edits images in Capture One and Photoshop. Our hope is that these lessons will allow you to fast-track your learning and start shooting professional images as soon as possible.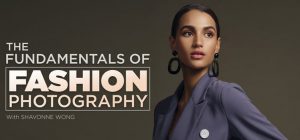 Building a Professional Team
One of the first big lessons in fashion photography is that great photos are rarely produced by a one-person crew. Great images are usually produced by a team of people, and it was important for us to cover this part of the business. Although Shavonne is from Singapore, we filmed this tutorial in New York City, which meant she had to source a professional group, including a model, makeup artist, and stylist in a place where she had no previous contacts. Shavonne teaches you all the aspects of building and working with a team, including where to find high-quality people, how to communicate with them over email and on set, and when to collaborate for free versus paying to work with a specific talent. Shavonne also interviews both the makeup artist and stylist so you can hear how they can help facilitate getting the absolute best final images.
If you haven't worked with models before, Shavonne provides some great tips on how to interact with your model on set and what to look out for in creating authentic fashion poses. She takes the time to walk through some dos and don'ts of posing models regardless if they are well-seasoned professionals or if they have never modelled before at all. Even if you don't have access to modelling agencies found in big cities, the goal is to give you Shavonne's best modelling tips so that you can produce high-end fashion images with anyone in front of your camera.
This Download Includes
2.5+ Hours of Video Content
10 Raw Practice Files
How to Build and Communicate With a Team
How To Work on Set
How To Find a Model
Posing Lesson
Sourcing Locations
Basic Gear Guide
Six Lighting Setups
Model Coaching
How to Create Stronger Compositions
Colour Correction in Capture One
Retouching in Photoshop
Access to a Private Facebook Group
You must log in to submit a review.